Caitlin Hulcup (Iseult), Tom Randle (Tristan) - photo: Robert Workman
Caitlin Hulcup (Iseult), Tom Randle (Tristan) - photo: Robert Workman
Welsh National Opera
Le Vin herbé
Martin
A magic potion becomes both a blessing and a curse for two young people. Tristan is about to bring the Irish princess Iseult to Cornwall where she is to marry his uncle. A love potion has been prepared to get the arranged marriage off to a happy start. But when Iseult's chambermaid pours it into the goblets of her mistress and the Cornish knight, they cannot hide their feelings, even if their love means treason to the crown.
Sweet compassion instead of ecstatic love: Frank Martin's Le vin herbé offers a new interpretation of the tale of Tristan and Iseult, which goes beyond Wagnerian pathos. Tom Randle and Caitlin Hulcup embody the fatal lovers in this production by Welsh National Opera.
Cast
Iseult, the Fair Princess of Ireland

Duke Hoël, a nobleman of Brittany

Iseult of the White Hands, his daughter

Welsh National Opera Chorus

Welsh National Opera Orchestra

...
...
The story
Storytellers invite us to hear the story of Tristan and Iseult.
Act I
As the knights of Cornwall prepare to take Iseult the Fair, Princess of Ireland, back with them to Cornwall, to marry Mark, their King, her mother concocts a magic potion in secret. She instructs Iseult's companion, Brangien, to keep the potion hidden until Iseult's wedding night, when she must pour it into a bridal cup for the newlyweds to drink together. It has the power to make those who drink it fall deeply in love.
The ship sets sail from Ireland. Iseult is angry with Tristan, King Mark's nephew, for killing Morold, her fiancé, and for taking her away from her homeland. Iseult curses the ship and her fate: she would rather die in her own land than live in the land of King Mark.
The wind drops and the sun blazes down. Tristan gives the order to land and the crew goes ashore. Finding themselves thirsty, Iseult and Tristan call for a drink. Iseult's young maid mistakenly gives them the magic potion thinking it is wine; they drink and fall hopelessly in love. As the ship continues its journey to Cornwall, Tristan realises that he loves the future wife of his uncle and foster father, King Mark. He and Iseult are tormented by their unspoken love for one another. Brangien warns them they have drunk their 'love and death' in the potion, but she knows it is too late – the lovers are too deeply involved to turn back. Tristan and Iseult surrender to their passion.
Act II
Iseult has been married to King Mark and made Queen, but the love affair with Tristan has continued. On discovering this, King Mark has imprisoned them both. Tristan escapes and rescues Iseult and together they find refuge in the forest of Morois with their companion, Gorvenal.
A vengeful King Mark finds Tristan and Iseult lying asleep and is about to kill them when he sees an unsheathed sword lying between their sleeping bodies, keeping them apart. He decides to spare them and leaves his own sword behind as a sign that he chose to be merciful.
Tristan is sent into conflict by this sign. He remembers all that King Mark has done for him, and regrets his exile. Both Tristan and Iseult feel guilty at their betrayal of King Mark. They resolve to leave the forest; Iseult will return to the King and Tristan will go into exile, to his home country of Brittany.
Act III
Tristan wanders for years, convinced that Iseult has forgotten him. He helps Duke Hoël of Brittany fight a war with the Kingdom of Nantes. Duke Hoël summons Tristan and, in thanks for saving the country gives him his daughter, Iseult of the White Hands, as wife.
Fatally injured in battle, Tristan longs to see Iseult the Fair once more. Iseult of the White Hands overhears him asking his friend, Kaherdin, to take a ring to Iseult the Fair as a token of his enduring love and to beg her to come to him. He instructs Kaherdin to take his best ship and, on return, to display a white sail if Iseult is with him, a black sail if not.
Iseult the Fair returns with Kaherdin but their ship is becalmed. The dying Tristan thinks that she has refused to come to him. Iseult of the White Hands sees the ship approaching, flying a white sail, but lies to Tristan, telling him that the sail is black. Hearing this, Tristan dies.
Coming ashore to find all the people mourning Tristan's death, Iseult the Fair lies down and dies beside him.
King Mark buries the lovers side by side. A briar springs up between the two coffins, growing back each time it is cut down.
Insights
Tristan and Iseult is one of the most famous legends of the European Middle Ages. Richard Wagner drew inspiration from the 12th century romance written by Gottfried von Strassburg and composed one of his most ground-breaking operas: Tristan und Isolde.
Frank Martin's 'worldly oratorio' Le vin herbé, premiered in 1941 in Zurich, has not much in common with the Wagnerian opera other than the source material. Where Wagner tends to test the symphonic orchestra to the fullest, Martin only relies on seven string instruments and a piano. His music draws inspiration from early polyphonic sacral music, from Debussy's Pelléas et Mélisande, and Schoenberg's twelve-tone technique. The plot is narrated by a chorus. 
Polly Graham directed Le vin herbé at the Welsh National Opera in April 2017 to great public and critical acclaim. The ensemble of eight musicians, conducted by James Southall, sits directly on stage. As Tristan and Iseult, Tom Randle and Caitlin Hulcup lead an ensemble of more than forty singers.
© Caitlin Hulcup (Iseult) - photo: Robert Workman
© Caitlin Hulcup (Iseult), Tom Randle (Tristan) - photo: Robert Workman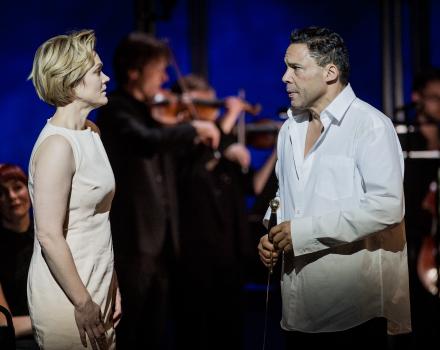 © Caitlin Hulcup (Iseult), Tom Randle (Tristan) - photo: Robert Workman
© Caitlin Hulcup (Iseult), Tom Randle (Tristan) - photo: Robert Workman
© Caitlin Hulcup (Iseult), WNO Chorus & Orchestra - photo: Robert Workman
© Robert Workman
© Catherine Wyn-Rogers (Iseult's Mother) - photo: Robert Workman
© Gareth Dafydd Morris (Kaherdin) - photo: Robert Workman
© Howard Kirk (King Mark) - photo: Robert Workman
© Rosie Hay (Brangien) - photo: Robert Workman
© Sian Meinir (Iseult of the White Hands) - photo: Robert Workman
© Stephen Wells (Duke Hoël) - photo: Robert Workman
© Tom Randle (Tristan) - photo: Robert Workman
© Tom Randle (Tristan) - photo: Robert Workman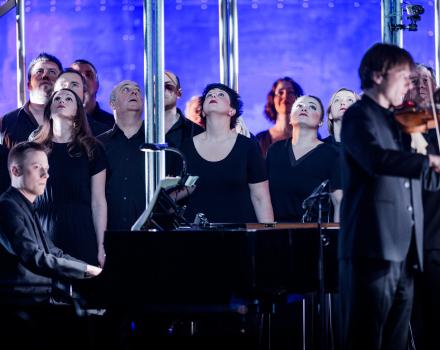 © WNO Chorus & Orchestra - photo: Robert Workman
© WNO Chorus - photo: Robert Workman
© WNO Chorus - photo: Robert Workman
© WNO Chorus - photo: Robert Workman
© WNO Orchestra - photo: Robert Workman