Iko Freese drama-berlin.de
Iko Freese drama-berlin.de
Komische Oper Berlin
The Pearls of Cleopatra
Straus
The Nile is running dry, a Roman hoard is approaching, and there is unrest in her own ranks – Cleopatra's hands are full and her mood is foul. All this beautiful head of state wants is a 'little Egyptian flirting'!
More than eighty years after its sensational world premiere, the operetta returns to the Berlin stage with famous film and stage actress Dagmar Manzel in the role of Cleopatra and Dominique Horwitz as her minister Pampylus. Director Barrie Kosky breathes new life into the witty satire by moving the Giza pyramids on the shores of the very German river Spree.
Cast
Cleopatra, Queen of Egypt

Beladonis, Prince of Syria

Charmian, a lady-in-waiting

Mark Antony, triumvir of the Roman Empire

Meri Ahmaniemi (Swing), Martina Borroni, Marika Gangemi, Claudia Greco, Luisa Mancarella, Hannah MacDonagh, Eleonora Talamini, Zoltan Fekete, Paul Gerritsen, Thomas Höfner, Michael-John Harper, Hunter Jacques, Christoph Jonas, Silvano Marraffa

Chor der Komischen Oper Berlin

Orchester der Komischen Oper Berlin, Lindenquintett Berlin

...
Julius Brammer, Alfred Grünwald

...
The story
Act I
All is not well in the pharaonic household in Alexandria. While the Egyptian queen Cleopatra may possess what other people can only dream of – wealth, power, hundreds of love slaves – she is still absolutely desperate: when will she ever find the one, true love of her life? But a monarch's despair can be turned to the state's advantage. Pampylos, Cleopatra's wily minister, forges a plan with Charmian, the lady-in-waiting: to make Prince Beladonis of Persia the Queen's lover and ally. But he turns up too late, and timing is everything… Pampylos's plans are scotched by a virile Roman warrior who arrives with warnings of a rebellion. The hero's name is Victorian Silvius (and he's engaged to Charmian, which adds piquancy). Cleopatra is thrilled. She bewitches her favourite legionary with wine laced with love pearls, and before the night is over she names him palace commander on account of his special abilities. Pampylos is devastated, but salvation is at hand in the form of a catastrophic drought. The flooding of the Nile hasn't happened and hunger threatens the people of Egypt. Action is needed. Cleopatra travels to the temple of the holy Ptah, Silvius's fiancée is supposed to get married off to Pampylos, and revolutionary forces get ready to stage their coup; ringleader Kophra tries to win over Silvius for the palace putsch.
Act II
Cleopatra's intercession has achieved the desired result: the Nile rises, all of Egypt is overjoyed. All of Egypt? Kophra's insurrectionary ambitions are still smouldering. At the last moment, Pampylos manages to arrest the rebels. Cleopatra in her fury knows no mercy; Silvius is also to be punished for loving Charmian. Finally, after all this hullabaloo, the hour of the debutant comes. His name: Beladonis. Yet wine, pearl and love potion do nothing to alleviate the sovereign's heartache. What will become of Pampylos's planned alliance? What of the pining Queen? What will Cleopatra's cat Ingeborg advise, and what does Pampylos's peculiar not mean…?
Insights
Cleopatra in Berlin
A trademark of Barrie Kosky's tenure at the Komische Oper has been the rediscovery of the operettas written during the silver era between the wars. Composers Paul Abraham, Emmerich Kálmán, Oscar Straus, Kurt Weill and Jaromír Weinberger have had their neglected or suppressed works reborn in scintillating stagings which have won an enthusiastic reception. What has led to the choice of each title? Kosky's answer is: 'it is always its musical quality'.
Oscar Straus premiered his Perlen der Cleopatra in his native Vienna in 1923; it reached Berlin the following year. His music combines the Viennese operetta tradition with the jazz world of 1920s Berlin. It breathes 'Berlin air', and the Egypt of its supposed location is a thinly disguised Berlin. It was written to showcase the talents of Fritzi Massary, born in Vienna of Jewish extraction and famed as much as an actress as a singer. She was an unchallenged star of the Berlin revue scene but also sang The Merry Widow for Bruno Walter, before being obliged to leave Berlin in 1933. Oscar Bie described her in 1920: 'The moment she walks on stage, she becomes another person. Suddenly a desire to act surges through her body…No matter what part she's playing, whether it's a dialogue, song, conflict, it overwhelms her like an inner vision'.
Dagmar Manzel is Berlinerin through and through. She embodies the city with her accent, directness and ironic detachment. After her inimitable portrayals in Abraham's Ball im Savoy and Straus's Eine Frau, die weiß, was sie will, she was not so much the obvious choice for Cleopatra as the pretext for mounting the piece. Manzel collaborated with Kosky and conductor Adam Benzwi and their team in creating the context and style and tone of the performance. She is a mistress of comic timing, able to turn from imperiousness to farce in a moment, switching between speech and song within a single phrase.
The plot of Die Perlen der Cleopatra is built on a plausible enough paradox: how may an all-powerful queen find love? But every twist and turn adds absurdity and yet another improbable coincidence until chaos reigns. It is the perfect recipe for that mixture of song and dance, spectacle and satire for which Twenties Berlin is synonymous. While you watch it, 'Du bist in Berlin, Baby!'
© Iko Freese drama-berlin.de
© Iko Freese drama-berlin.de
© Iko Freese drama-berlin.de
© Iko Freese drama-berlin.de
© Iko Freese drama-berlin.de
© Iko Freese drama-berlin.de
© Iko Freese drama-berlin.de
© Iko Freese drama-berlin.de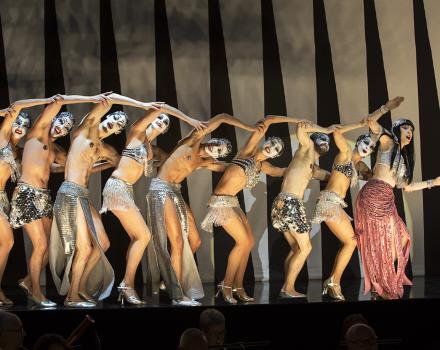 © Iko Freese drama-berlin.de
© Iko Freese drama-berlin.de
© Iko Freese drama-berlin.de
© Iko Freese drama-berlin.de
© Iko Freese drama-berlin.de
© Iko Freese drama-berlin.de
© Iko Freese drama-berlin.de