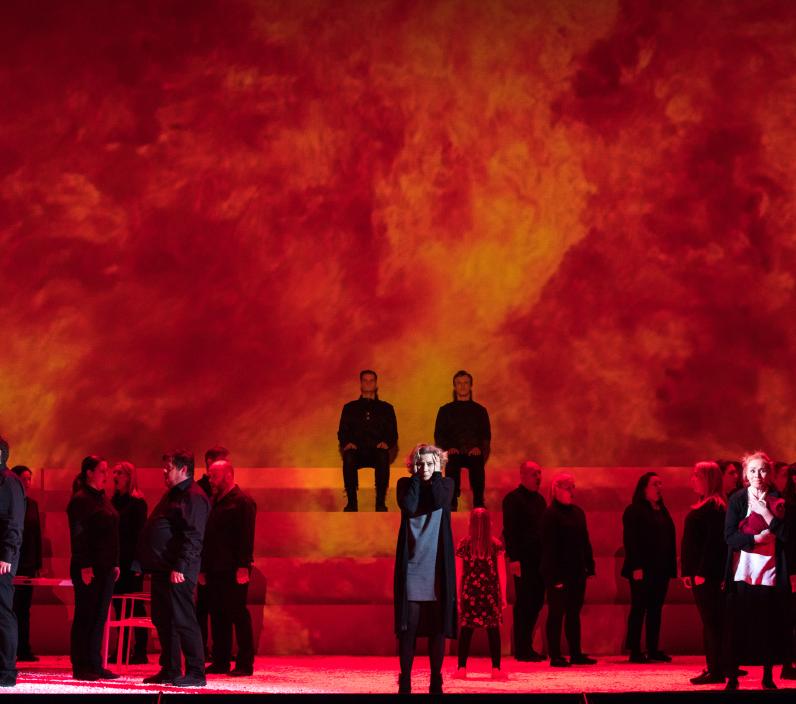 Johanna Olafsdottir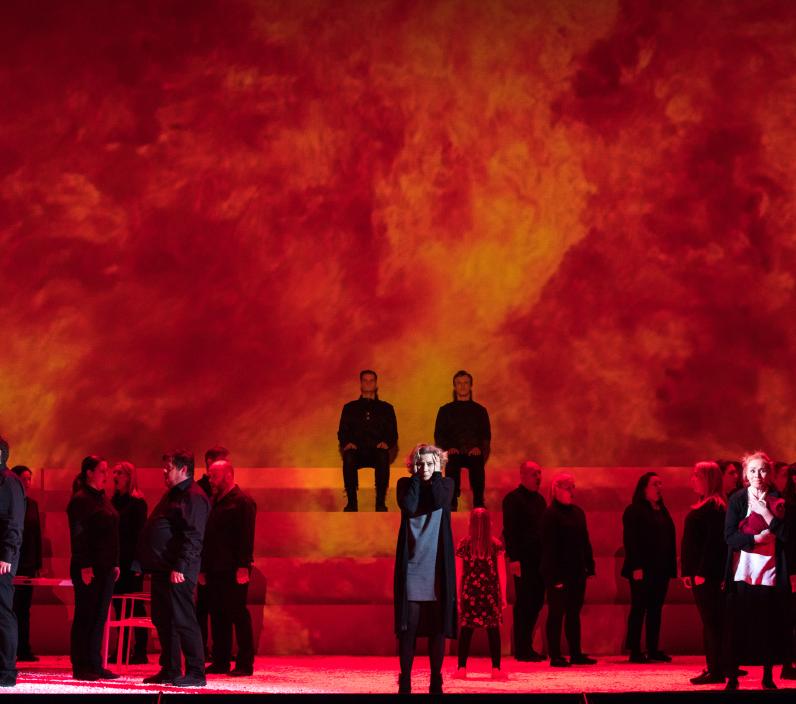 Johanna Olafsdottir
Icelandic Opera
Brothers
Bjarnason
On a mission to Afghanistan, a military officer suffers a traumatic period in captivity. When he finally returns home, he finds his relationship with his family has changed forever.
Icelandic composer Daníel Bjarnason and Danish director Kasper Holten transform Susanne Bier's film Brødre/Brothers into a captivating and vivid opera. Written to celebrate Aarhus as European Capital of Culture 2017 for Den Jyske Opera / Danish National Opera in Musikhuset Aarhus, Bjarnason now conducts his bold domestic drama in his homeland for the first time.
Cast
Selma Buch Ørum Villumsen

...
...
The story
The soldiers Michael and Peter go off to war. Michael says goodbye to his wife, Sarah, and their daughter, Nadia, while Peter says goodbye to his pregnant wife, Anna.
Since their helicopter is shot down by the enemy, Michael and Peter are presumed dead. A memorial service is held for them. The tensions in Michael's family come to the surface when his father makes it clear he preferred him to his younger brother, Jamie. The father would rather his younger son to have died than Michael.
Jamie wakes Sarah up in the middle of the night, drunk and bleeding after a fight. Sarah, reluctant at first, helps him to clean his wound. They argue fiercely, then proceed to share their grief for Michael. They embrace, holding on to each other like two drowning people.
But Michael has in fact survived the crash and returns. Anna, who has now given birth, hopes this means Peter might also return. Michael's Colonel talks to him and asks him about the other missing soldiers. Michael claims he didn't see any other survivors, as he was held captive by the enemy.
Michael seems alienated and finds it hard to adjust to everyday life. Nadia complains to her mother about her father's strange behaviour. Jamie helps to fix Nadia's swing, and it is clear he has become close to Sarah. Michael expresses jealousy and anger towards Jamie and Sarah, and he reacts violently when Nadia doesn't obey him.
After losing control once again and bursting out at Sarah, Michael tries to confess to the Colonel that he saw Peter alive, but the Colonel asks him to keep silent and stop tormenting himself. At the same time, Sarah turns up at Jamie's place. They long for each other.
At Nadia's birthday party, Michael finally blows up completely. He leaves to look for Anna, but can't bring himself to confess what happened to Peter before he himself was rescued. As Michael returns to the party, he sees Peter's ghost, and finally confesses that he was forced to kill Peter in order to save himself.
Copyright
Johanna Olafsdottir
Copyright
Johanna Olafsdottir
Copyright
Johanna Olafsdottir
Copyright
Johanna Olafsdottir
Copyright
Johanna Olafsdottir
Copyright
Johanna Olafsdottir
Copyright
Johanna Olafsdottir
Insights
5 things to know about Brothers
1° From screen to stage
While many operas are based on books or plays, Brothers is based on a film, Brødre, a psychological thriller directed by Susanne Bier. Released in 2004, it tells the story of a Danish officer who is sent to the International Security Assistance Force operation in Afghanistan, and of how it affects his family back home. The film won the World Cinema Audience Award at the Sundance Film Festival and was later remade as an American production starring Tobey Maguire, Jake Gyllenhaal and Natalie Portman.
2° Defining the undefinable
To celebrate Aarhus as the 2017 European Capital of Culture, the city's Musikhuset commissioned an opera, a dance and a musical, each based on a different film by Bier. Produced in cooperation with the Danish National Opera and Aarhus Symphony Orchestra, Brothers was the first of these adaptations. Icelandic conductor, curator and composer Daníel Bjarnason was asked to create the new work. Time Out New York has described his music as 'coming eerily close to defining classical music's undefinable brave new world,' while his versatility has also led to collaborations with a broad array of musicians outside the classical field including Sigur Rós, Ben Frost and Brian Eno.
3° Collective memory
Changing one art form into another can easily fail, so while Daníel Bjarnason and his Swedish librettist Kerstin Perski wanted to depict the same story on stage as that of the film, they decided not to compulsively follow its narrative structure. Their solution was to borrow a feature from ancient theatre - a Greek chorus that comments on the events that happen on stage. But as the trauma of his deployment in Afghanistan and his difficulty in readjusting to life back home causes Michael, the Danish army officer, ever more stress, this chorus starts to trigger painful memories for him before it eventually morphs into voices trapped inside his head.
4° Odysseus reborn
This chorus isn't the only part of the opera that harkens back to Ancient Greece; Bjarnson sees a strong parallel between Michael and Odysseus, whose return to Ithaca after the Trojan War left him feeling equally lost and unable to adjust. 'He finds that his world has moved on and he's become somewhat of a ghost,' the composer says of the hero in Homer's Odyssey. 'What drew me to Brothers is that it's such a universal story. There's something timeless about its core. It's rooted in mythology.'
5° Nordic blanc
Brothers was a popular and critical success in Aarhus, with Jutland Station giving particular praise to the director, Denmark's Kasper Holten: 'The curtains opened to a completely white stage [reminiscent] of a classic white mausoleum, sober and minimalist... Kasper Holten's take on Susanne Bier's psychological drama is a compelling adaptation. Expect high drama and moments of happiness, but mostly sadness and hard-hitting scenes.' These scenes have now made their way to Icelandic Opera, who perform them at Harpa. The jewel in Reykjavik's crown, the steel and glass structure of this magnificent concert hall was inspired by the basalt sea stacks that dot Iceland's coastline, and is every bit as dramatic as Bjarnason's opera.
© Johanna Olafsdottir
© Johanna Olafsdottir
© Johanna Olafsdottir
© Johanna Olafsdottir
© Johanna Olafsdottir
© Johanna Olafsdottir
© Johanna Olafsdottir