Opera Ballet Vlaanderen / Annemie Augustijns
Opera Ballet Vlaanderen / Annemie Augustijns
In memory of composer Wim Henderickx who died on 18 December 2022.

In times of religious violence, the young mother Vigdis Adelaïs is torn between her Christian upbringing and the Jewish faith, to which she has converted for her beloved.
The Belgian composer Wim Henderickx and librettist Krystian Lada have created a new opera from Stefan Hertmans' haunting novel about identity, impossible love, faith and human strength. Western early music, modernism and film music merge with Jewish and Arab traditions to create a contemporary opera in which Vigdis' epic story is told through sound. Koen Kessels tackles the challenge of conducting not only the Orchestra, Chorus and Children's Chorus of Opera Ballet Vlaanderen, but also a cast with singers from different vocal traditions, instrumentalists who play the qanûn, duduk or oud, and a newly formed city choir made up of Antwerp citizens from diverse backgrounds.
Cast
David, Shipowner, Embriachi

Opera Ballet Vlaanderen Chorus and Opera Ballet Vlaanderen Children's Chorus

Opera Ballet Vlaanderen Symphony Orchestra

...
...
The story
Rouen, 1087. In an age of religious and political unrest, Vigdis Adelaïs grows up in a Christian family. When she falls in love with the Jewish student David, her life changes radically. Their forbidden relationship is discovered and Vigdis flees with her beloved, taking on the Jewish name Sarah Hamoutal. In David's native city of Narbonne, she is converted to Judaism before they eventually take refuge in the village of Moniou, where life smiles on them, for a time.
The First Crusade reaches Moniou. The synagogue, in which the entire Jewish community is gathered, is barricaded and set on fire. David is killed, and Hamoutal sees her two eldest children, Yaakov and Justa, being kidnapped by soldiers.
Vigdis decides to travel to Jerusalem to look for her children. Her quest brings her from Marseilles, across the Mediterranean, to Alexandria. There, once again, tragedy strikes. Her third child dies and she is violently assaulted. In Fustat, she decides to build a new life and remarries. When she hears that her kidnapped children are still alive and living with her parents, she travels back there without delay.
Vigdis progressively loses her grip on reality and ends up in Nájera where, as Jewish convert, she is prepared for the pyre by the Christians. Her freedom is eventually bought, and again, she goes on the run. Her last trip does not lead her to Rouen, but to Moniou, the place where she was once so happy. Broken by the many trials she has endured, she ultimately dies in the ruins of the synagogue.
Insights
From book to opera
Wim Henderickx's lifelong fascination with different cultures, their history and their musical expressivity in particular moved him to adapt Stefan Hertmans' extraordinary novel The Convert into a no less epic opera. Through diverse rituals, powerful full-ensemble scenes and intimate monologues, he auditively portrays the tragic yet inspiring life story of the titular heroine who, driven by love for her husband and children, braves a world of social, political and religious violence, incitement of the people and hate of foreigners. A world that seems dangerously close to our contemporary one.
In Monieux, as the village in Provence is now known, Stefan Hertmans encountered the centuries-old legend about a forgotten pogrom at the time of the First Crusade. In 1096, Rabbi Joshuah Obadiah wrote a letter, which has been preserved, on behalf of a young convert who lost her husband in the pogrom and saw two of her three children abducted. The document is fully integrated into Hertmans's novel and is also given a central place in Henderickx's opera. Hertmans became captivated by this woman, gave her a name and set off on a journey to find traces of her existence in order to bring her back to life in his novel.
Fragments of a second letter, presumably by the same author, have also withstood the test of time and tell of a convert who seeks refuge with the Jewish community in Nájera (Northern Spain) but is condemned by the Christian community there to be burnt at the stake. Many details in the descriptions plausibly suggest that this is the same woman as in the first letter.
In the opera, librettist Krystian Lada dispenses with Hertmans's narrative voice from the novel and focuses on the historical story. With the exception of the singers who play the roles of Vigdis and Rabbi Obadiah, the five other soloists sing the many other roles, constantly switching between them, in clear view onstage. The libretto is imbued with references to sacred scriptures, historical sources and religious rituals but its clear language underscores the connection to a contemporary world.
In Henderickx's music, the epic character of Vigdis's life story is conveyed by a grand orchestral instrumentation, supplemented by Middle-Eastern instruments such as the ud, duduk and qanûn. In his oeuvre, Henderickx has always drawn inspiration from non-Western traditions. In The Convert, he interweaves influences from European early music, modernism and film music with Jewish and Arabic musical traditions. It is this musical union that gives the opera its powerfully universal character, thus emphasizing human solidarity, regardless of religion, cultural background or even timeframe. The Opera Ballet Vlaanderen Chorus and Children's Chorus are supplemented with a newly formed city choir, made up of Antwerp residents of diverse ages and backgrounds. An important role is also reserved for electronics, for which Henderickx cooperates with Jorrit Tamminga. For Henderickx, The Convert represents a culmination point in his entire artistic oeuvre.
Visual artist Hans Op de Beeck focuses on the universality of Vigdis's story by creating a theatrical apparatus that is constantly in motion. Painted backgrounds, moving pulleys and countless monochrome props continuously form new tableaux, controlled by the chorus that musically expresses a variety of population groups throughout the opera. Like an anonymous group of masters of ceremony, inspired by the black-clad puppeteers of Japanese Bunraku theatre, Op de Beeck places them discreetly in the foreground. He never opts for a cinematic-historical narrative, but by openly displaying the theatrical mechanics, using anachronistic images and especially focusing on the haunting emotions of the characters, he too brings the tragedy very close.
© Opera Ballet Vlaanderen / Annemie Augustijns
© Opera Ballet Vlaanderen / Annemie Augustijns
© Opera Ballet Vlaanderen / Annemie Augustijns
© Opera Ballet Vlaanderen / Annemie Augustijns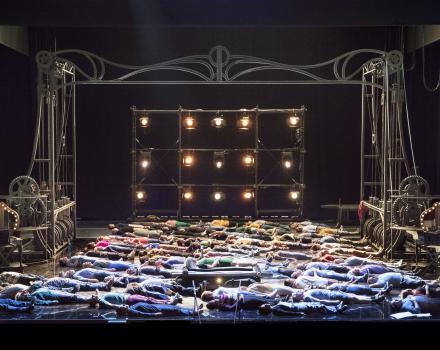 © Opera Ballet Vlaanderen / Annemie Augustijns
© Opera Ballet Vlaanderen / Annemie Augustijns