Christian Kleiner
Christian Kleiner
Phèdre loves Hippolyte, but Hippolyte loves Aricie. And wouldn't you just know it, Hippolyte is the son of Phèdre's husband Thésée.
Rameau tells his story with an expressive force that earned him the reputation of a revolutionary at the premiere in 1733. The richness of his harmonies, rhythms and melodies spans an entire cosmos from the underworld to the heavens, which stage director Lorenzo Fioroni, together with baroque specialist Bernhard Forck, captures in spectacular images fusing music, text, film and dance into a new unity.
Cast
Demonstrators, company etc.

Extras and movement chorus of Nationaltheater Mannheim

Opera Chorus of Nationaltheater Mannheim

Orchestra of Nationaltheater Mannheim

...
Paul Zoller, Loriana Casagrande

Simon-Joseph Pellegrin (after Jean Racine)

...
The story
Prologue
As if it had a life of its own, the theatre machinery sets itself in motion: layer by layer, a world emerges in which figures of the present meet figures who, like an old Louis XIV, seem to come from the past. 'Amour' welcomes her audience as an expert emcee and tells of the beauty and violence of love. With three strokes, the old king gives the signal for the overture to begin.
Act 1: Phèdre's rage
Aricie is held at Thésée's court. Phèdre urges her to swear an oath to Diane and thus be separated from Hippolyte forever. The jealous Phèdre rightly suspects an attraction between the two. When Aricie refuses to take the vow, supported by Diane and the court, Phèdre can no longer restrain herself. After a passionate outburst, she is left alone.
In this state of mind, news of her husband Thésée's death reaches Phèdre. Oenone gives her mistress hope: nothing now stands in the way of a union with her stepson Hippolyte.
Act 2: Thésée in the underworld
Thésée has gained access to the underworld. He is looking for his friend Perithoos, whom he wants to free from the realm of the dead. His negotiations with Pluton and his servant Tisiphone are fruitless; instead, Thésée is shown the horrors of the underworld in all their brutality. An eerie parade passes him by like a nightmare and only with Neptune's help does Thésée manage to free himself from Pluton's clutches. The three Fates, who spin the thread of fate and hold the world' s destiny in their hands, prophesy terrible things.
Act 3: The Return of the King
Phèdre is struggling with himself. She looks forward to a meeting with Hippolyte arranged by Oenone with a mixture of fear and determination. When he finally arrives, she reveals her love to him, to which he reacts with disgust. At the moment when the situation escalates, Thésée appears. He cannot interpret what has happened, but Oenone directs suspicion at Hippolyte. He has tried to seduce his stepmother. Thésée curses the son and asks the gods to kill Hippolyte. Court society flocks together to celebrate the return of their king.
Act 4: Flight and death
Together Hippolyte and Aricie want to flee. They board the carriage that is to take them to freedom, but an accident occurs which Hippolyte does not survive. Summoned by the lamentations of the bystanders, Phèdre appears at the scene of the accident. Torn by guilt, she commits public suicide.
Act 5: Wedding and farewell
Diane and Jupiter agree on how to bring about a happy outcome to the events. Love should triumph and so Diane assures the traumatised Aricie that Hippolyte will return to her side. Aricie reacts with incomprehension, but in fact Hippolyte is brought back to life before her eyes. In a scene of mourning that interrupts the wedding song, Oenone bids farewell to her friend Phèdre. The party scatters, a new era begins.
Insights
Hippolyte et Aricie
A chequered story
The dream of opera
It was a dream that accompanied Jean-Philippe Rameau for a long time: he wanted to write an opera. Born in Dijon in 1683, Rameau had made a name for himself as an organist, composer of keyboard music and author of works on music theory. But an opera? He was 50 years old when his first work, Hippolyte et Aricie, was finally staged. The first performance took place in 1733, and Rameau made two complete revisions to this work before his death in 1764. U-turns and surprises also determined the preparation of the Mannheim premiere, directed by Lorenzo Fioroni and conducted by Bernhard Forck. It was planned for March 2020, but will finally take place in spring 2021.
Two lockdowns later: A new beginning for Hippolyte et Aricie
Shortly before the first main rehearsal in March 2020, work on Hippolyte et Aricie at the Nationaltheater had to be suspended due to the pandemic. A fundamental reworking and rewrite became necessary in order to give the project a future. One particular question was burning under everyone's nails: How can Hippolyte et Aricie's world still be told while observing safety distances, hygiene rules and reduced numbers of people? Can closeness and intimacy, but also group scenes, be portrayed at all under the given circumstances?
Yes, they can! Artistic and technical departments worked out a concept to make precisely that possible. For instance, the concept specifies how the individual choral groups are to be distributed in the stage and auditorium so that there are no queues either on or behind the stage. Singing takes place in the boxes behind plexiglass panels. Safety masks and gloves are integrated into costumes, the stage set is rearranged so that it can be managed by a smaller technical team. The longing for contact and the upheaval between past and future become the central scenic motif - and the core of the Hippolyte et Aricie's story.
Faultlines: Order and chaos
In the prologue that Rameau and his librettist Simon-Joseph Pellegrin place at the beginning of their opera in the original version of 1733, the two gods Amour and Diane are pitted against each other: While the latter stands for the chaste command of impulse and passion, Amour is out to cause trouble. As is well known, he shoots his arrows blindly - and whoever they hit can no longer be helped. In order to resolve this conflict, the two gods need help, which appears to them in the form of Jupiter. As the wise father of the gods, he orders a compromise. On one day of the year, love should be allowed to do its mischief. At the end of this day, however, marriage must take place.
Although the authors deleted the prologue in later versions and it is only included in parts in the new Corona-proof version in Mannheim, it nevertheless demonstrates a principle that determines the plot of the opera Hippolyte et Aricie and thus also the thrust of Lorenzo Fioroni's production. It is about the conflict between chaos and order, between individual passion and an individual destiny suspended in the overall order.
Christian Kleiner
Christian Kleiner
Christian Kleiner
Christian Kleiner
Christian Kleiner
Christian Kleiner
Christian Kleiner
Christian Kleiner
Christian Kleiner
Phaedra against the rest of the world?
Her adulterous passion for Hippolyte plunges Phaedra into chaos. It ends in suicide. The 'innocent' love between Hippolyte and Aricie, on the other hand, is rewarded by the gods. Hippolyte is to succeed his father Theseus and, as a good ruler, guarantee the preservation of order in the future. In absolutist France, this was a happy ending of almost compelling logic.
But the fact that Rameau provides Phaedra with the most beautiful music, which contrasts the loud outburst with the most fragile introspection, shows that his view of the characters is much more differentiated. The opera - whose origins lie in a decidedly courtly art form that had to culminate in the praise of the ruler - manages to track down the radical power of the human being and to celebrate it in its unconditionality, to make us empathise with it and to make us question the order of the world with Phaedra. And yet not to damage its very foundations.
Caught between Versailles and street fighting
This struggle between order and chaos, between hierarchy and overthrow, between Ancien Régime and Revolution is reflected in Lorenzo Fioroni's visual and directorial language. The production is based on the idea of the baroque festival, in which 'reality' and 'enjoyment of art' merge into one. Stage and auditorium become a common space, which is determined as much by observation and amazement as by presentation and performance. Images of the façade and interiors of the Palace of Versailles bring the time of Louis XIV to life in fragments. Just as Phaedra wins our sympathy, our sympathies also go out to the aged king, who looks back at us from all the god figures from Jupiter to Pluton. He knows that his time is over - and yet he fights and dances on. This determination begs for respect. With Hippolyte and Aricie, this ruler is confronted by two young, modern people who seek their own way into the future and in the process suffer injuries from which they do not easily recover. Amour, in the guise of Oenone, drives the game of passions, while Theseus, as a real politician, comes to terms with the circumstances and finds his own advantage in them. The result is a vista that traces the fault lines between history and the present and in doing so tells a touching story of human love and suffering.
Cordula Demattio
© Christian Kleiner
© Christian Kleiner
© Christian Kleiner
© Christian Kleiner
© Christian Kleiner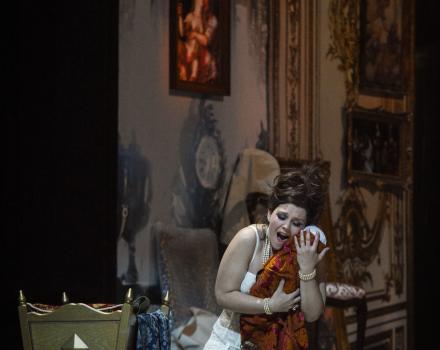 © Christian Kleiner
© Christian Kleiner
© Christian Kleiner
© Christian Kleiner