Javier del Real / Teatro Real
Javier del Real / Teatro Real
Cast
The bonze, Cio-Cio-San's uncle

Principal Chorus of the Teatro Real

Orchestra of the Teatro Real

...
Giuseppe Giacosa, Luigi Illica

...
The story
American Naval officer Pinkerton is stationed in Japan and decides to wed the teenage geisha Cio-Cio San, called Butterfly. Unbeknownst to the young bride, this officer is looking merely for a marriage of convenience. She falls promptly and swiftly in love, even converting to Christianity in order to be a better wife. Yet, storm clouds gather on the horizon: at the wedding, an uninvited guest curses the couple.
Pinkerton leaves, and Cio-Cio San is left alone to bear his child. Suzuki, Cio-Cio San's maid, insists that the officer will never return, but Butterfly will not believe it. Her faith is seemingly justified one day when Pinkerton's ship indeed sails into the harbour.
However, Pinkerton has brought an American wife with him, and Butterfly is expected to give up her child. She agrees to do so, but only if he comes in person to see her. He arrives to find that she has committed ritual suicide with her father's knife.
The most loved aria from this opera is 'Un bel di vedremo,' sung by Butterfly as she pines for Pinkerton's return.
Insights
Giacomo Puccini's opera Madama Butterfly, composed on a libretto by Luigi Illica and Giuseppe Giacosa, illustrates through the use of deep irony the colonial tendencies that dominated the interactions of the American and the Japanese peoples at the beginning of the twentieth Century.
Director Mario Gas frames this tale in Madrid on the stage of the Teatro Real in the 1930s where singers are filming a staged version, creating a fascinating meta-setting for the opera.
In Spain, Mario Gas is primarily known for his work in film, both in front of and behind the camera. He won a Goya award for best supporting actor in the film Amic/Amat. He has also been active in other areas such as voiceover work (for actors like John Malkovich and Ben Kingsley). He has directed over 50 plays, and his work in theatre has won him the prestigious Premi Nacional de Teatre de Catalunya, and the Ciutat of Barcelona.
This Butterfly, then, has the benefit of a director at the helm who views action and reaction in opera through the lens of cinema, both literally in his unique choice of staging, and figuratively through his own acting and film directing experience. Yet his own experience is rooted in the world of opera.
For me, opera is vital, and holds a very strong emotional component. My father was a bass who sang opera and zarzuela. I was born into this world; I grew up with the works of Sorozábal, so I feel that this universe is very close.
- Mario Gas, in an interview for El Mundo
Butterfly group<br/> © Javier del Real / Teatro Real
Butterfly and the Bonze<br/> © Javier del Real / Teatro Real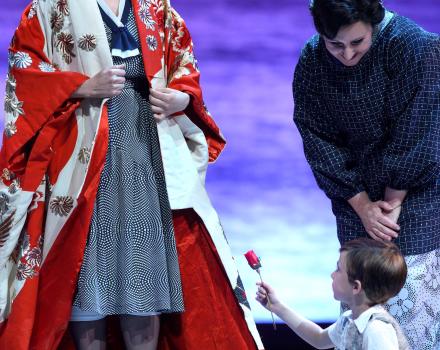 Butterfly, Suzuki and the American child<br/> © Javier del Real / Teatro Real
Butterfly in despair, comforted by Suzuki<br/> © Javier del Real / Teatro Real
Butterfly waiting<br/> © Javier del Real / Teatro Real
Butterfly says goodbye to Pinkerton<br/> © Javier del Real / Teatro Real
Butterfly discovers the American child<br/> © Javier del Real / Teatro Real
Butterfly's suicide<br/> © Javier del Real / Teatro Real
Butterfly and Suzuki<br/> © Javier del Real / Teatro Real
Butterfly in anguish<br/> © Javier del Real / Teatro Real
Butterfly and Pinkerton at the wedding<br/> © Javier del Real / Teatro Real
Butterfly in despair<br/> © Javier del Real / Teatro Real
Butterfly and Pinkerton at the wedding<br/> © Javier del Real / Teatro Real
Sharpless, Suzuki, Butterly and the American child<br/> © Javier del Real / Teatro Real
Butterfly and Pinkerton <br/> © Javier del Real / Teatro Real
Butterly and Pinkerton duo<br/> © Javier del Real / Teatro Real
Butterfly's death<br/> © Javier del Real / Teatro Real
Off-screen Butterfly <br/> © Javier del Real / Teatro Real
Butterly and Pinkerton <br/> © Javier del Real / Teatro Real
Butterfly, Suzuki and the American child<br/> © Javier del Real / Teatro Real
Butterfly and Sharpless<br/> © Javier del Real / Teatro Real