Bartek Barczyk Katarzyna
Bartek Barczyk Katarzyna
A great love that must defy prejudice. A secret kept hidden for years and a surprising denouement. The formidable force of memories unveiling the mysteries of the past. Stach comes from a wealthy family, Chicha is a Gypsy. Social conventions, intolerance and stubbornness stand in the way of their happiness. Will Stach and Chicha end up together? Will the family secrets come out? Is a happy ending always happy?
Poznań Opera stage a rarely performed opera by Stanislaw Moniuszko, shown for the first time in a full musical arrangement prepared by its conductor Rafał Kłoczko. Ilaria Lanzino, an Italian director of the young generation, known for her unconventional and coherent productions, directs Jawnuta to designs by Dorota Karolczak. For Lanzino, this is a story about the Polish Roma and their complicated history, about the power of prejudice and how to avoid it. Be prepared to be moved by Moniuszko's lyrical Roma songs and rousing melodies.
Cast
Małgorzata Olejniczak - Worobiej

Vocal / dance / choreography

Hungarian cimbalom / vocal

...
...
The work Jawnuta: an opera in 2 acts (source edition) libretto Ludwik Anczyc based on the idyll Gypsies by Franciszek Dionysius Kniaźnin comes from the catalogue of Polskie Wydawnictwo Muzyczne (PWM).
The Story
Jawnuta or Roma stories based on Stanislaw Moniuszko's opera.
Act I: Chicha
With singing and dancing, the Roma community honours its oldest members, Szymon and Jewa. Although Jewa appreciates the celebration, her heart is not in it and pain shows in her absent eyes. Chicha, Jawnuta's daughter, is also sad. The girl, although she feels a deep bond with her loved ones, wants to leave the community. She has fallen in love with a non-Roma boy, Stach and they both want to break the prejudices of their respective communities. Dżęga, Chicha's brother, knows about his sister's intentions. He is initially horrified by the idea of her sister leaving the safety of the family. In time, he decides to support her. Stach's father, Bartosz, is against the lovers. He forbids his son to have contact with the gypsy girl. After all, Stach could be with any girl; he is handsome and wealthy. What did that poor Roma woman do to deceive him? It is beyond Bartosz. Jawnuta feels uneasy. In a flash, she guesses that Stach and Chicha are in love and suspects that her daughter intends to leave. On the one hand, she knows that she should give the girl a free hand, on the other, she fears the trouble that awaits her when she enters the world outside the Roma community.
Act II: Jewa
Jewa witnesses a dispute between the young Chicha and her mother Jawnuta. Observing a mother fighting for the safety of her daughter, Jewa breaks down in tears. As Chicha asks the reason for these tears, Jewa tells the story about how she could not save her own children. It is now time for the young Chicha to learn about one of the darkest hour in the history of the Roma community.
Act III: Jawnuta
Jewa's painful story encourages the community to stick together. Jawnuta feels reassured that Chicha will now no longer think about leaving them to seek a place in the wider world that has always shunned them. Chicha and Stach meet again by chance and a furious longing re-enflames them both. The two families manage to separate the lovers. Jawnuta is angry but seeing her daughter's pain, so she decides to make a step towards Stach's family and searches for dialogue.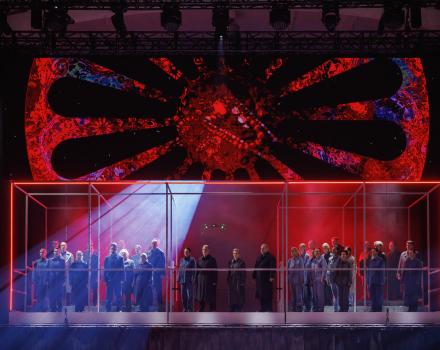 Bartek Barczyk Katarzyna
Bartek Barczyk Katarzyna
Bartek Barczyk Katarzyna
Bartek Barczyk Katarzyna
Bartek Barczyk Katarzyna
Bartek Barczyk Katarzyna
Bartek Barczyk Katarzyna
Bartek Barczyk Katarzyna
Bartek Barczyk Katarzyna
Maciej Zakrzewski
Maciej Zakrzewski
Maciej Zakrzewski
Maciej Zakrzewski
Maciej Zakrzewski
Maciej Zakrzewski
Maciej Zakrzewski
Maciej Zakrzewski
Maciej Zakrzewski