Michele Crosera
Michele Crosera
Teatro La Fenice
Macbeth
Verdi
After a supernatural prophecy and at the urging of his wife, a Scottish lord kills the king and claims the throne. Fearful of being found out, he leads a reign of terror against his people.
Shakespeare's plays provided Verdi with lifelong inspiration, and Macbeth was the first that he adapted for the operatic stage. Teatro la Fenice opens its 2018/19 season with this new production, directed by Venice's own Damiano Michieletto, who creates a dreamlike world full of imagination and hallucinations.
Cast
Solists from Piccoli Cantori Veneziani

Coro del Teatro La Fenice, Coro di voci bianche

Orchestra del Teatro La Fenice

...
Francesco Maria Piave and Andrea Maffei, after William Shakespeare

Claudio Marino Moretti (Coro del Teatro La Fenice), Diana D'Alessio, Elena Rossi (Coro di voci bianche)

...
The story
Act I
In a woods amidst bolts of lightning and thunder, three groups of witches appear. They meet two generals from King Duncan's army, Macbeth and Banco, who are on their way back from a victorious battle. The witches greet Macbeth as Thane of Glamis and of Caudor, and as the future king of Scotland; they then greet Banco, telling him he will be happier than his companion, not a king, but the father of monarchs. The king's messengers arrive, telling Macbeth that he has been appointed Thane of Caudor. Both Macbeth and Banco are amazed that the first prediction has come true.
In the hall in Macbeth's castle, Lady Macbeth is reading a letter from her husband, describing what has happened. When a servant announces the arrival of King Duncan together with her husband, she has already devised a plan to murder the sovereign. In fact, no sooner has Macbeth arrived than he convinces her to carry out the murder. The king arrives and with him is his son Malcolm. Macbeth waits for nightfall so he can enter the king's room and murder him. Distraught by such a criminal action, he is overcome with anguish whereas his wife remains calm: she takes the dagger covered in blood from Macbeth's hands and places it next to the sleeping guards so that they will be accused of the crime. Macduff, one of the king's servants, comes into Duncan's room to wake him up and finds him dead. Everyone comes running when they hear his cries of fear, including Macbeth and Lady Macbeth, who join in the unanimous cursing against the king's assassin.
Act II
Macbeth is the king of Scotland while Malcolm, Duncan's son, has fled to England and is accused of having killed his father. Talking to his wife in a room in the castle, Macbeth admits he is worried about the prophecies the witches made regarding Banco, in particular the prediction that Banco would have fathered monarchs. Macbeth therefore nourishes the desire to eliminate both the general and his son. Once again, Lady Macbeth agrees with and encourages her husband.
The assassins are getting ready to kill Banco and his son Fleanzio in the park. They reach the two victims. Banco is overcome with a strange premonitory feeling of anguish: the killers attack and kill him, while his son manages to escape.
The court has been summoned to a banquet in a magnificent hall to celebrate the new king and Lady Macbeth makes a toast. In the wings, the assassin tells King Macbeth that Banco is dead but that his son has escaped unharmed. The king is about to take Banco's place but his ghost, which is invisible to the others, stops him. Hallucinating, Macbeth begins speaking incoherently, frightening the guests. His wife tries to encourage him and repeats the toast, but once again Macbeth sees Banco's ghost and cries out in fear, frightening the onlookers and making them take their leave.
Act III
In a dark cave, the witches are making spells and dancing. Macbeth arrives, wanting to question them about his own future. Three apparitions are conjured up: he must be on his guard against Macduff, no newborn female will harm him, and he will be invincible as long as Birnam Forest does not move against him. Still dissatisfied, Macbeth asks if Banco's descendants will rule after him: eight ghosts of kings appear, the last of which is none other than Banco who, with a mirror in his hand reflects the images of future kings and points at his royal offspring. Macbeth throws himself against the ghosts like a madman in an attempt to destroy them, but he falls to the ground exhausted and faints. Around him, ondines and sylphs begin dancing. Once he comes to, with his wife at his side Macbeth decides to exterminate Banco and Macduff's family.
Act IV
At a deserted place on the border between Scotland and England, Macduff has set up camp with Scottish refugees and political exiles. They are lamenting the fate of their oppressed homeland. Macduff is also thinking about his family who was murdered on Macbeth's orders. Malcolm joins them at the head of the English allies and then tells each soldier to take a branch in Birnam Forest to camouflage themselves and approach the castle of the enemy king.
A doctor and lady-in-waiting are in the castle helping Lady Macbeth, who has been overcome with madness. She is continuously rubbing her hands to get rid of an invisible splash of blood. Without realising who is around her, she walks around the castle like a mad, exhausted sleepwalker, a victim of the most atrocious feelings of remorse.
Macbeth is frightened: although he is reassured by the prophecy that no female offspring can harm him, he regrets not having any heirs. He is not disturbed by the news of Lady Macbeth's death; instead, he is struck when his soldiers tell him that Birnam Forest is moving towards the castle. The king takes his sword and rushes to the battlefield.
On a vast plain, the English soldiers are advancing, hidden by their branches. Once they have thrown them aside, they unsheathe their swords and throw themselves into battle. Macduff reaches Macbeth and, telling him that he was not born from a woman but removed from the womb earlier, kills him. Malcolm is proclaimed King of Scotland.
Insights
'Music as an antidote to the yearning for power' : an interview with conductor Myung-Whun Chung
Maestro Chung, you are conducting Macbeth for the very first time, a play by Shakespeare that was particularly close to Verdi's heart and that he considered to be 'one of the greatest creations of the human spirit'. How did you approach this opera?
When you start to work on something new, you have to do things in a certain order. Therefore, just as Verdi did when he composed the opera, I started with the libretto and Shakespeare's play. Verdi always looked for a central idea he could compose his music around. In this sense one can say that the words come before the music. However, if this is the beginning, for him and for any other musician the endpoint has to be the music, which is of a much greater importance than the written text. As far as I am concerned, I think that a conductor's main task is to try and reconstruct the path that the composer followed. However, in Macbeth the starting point, in other words Shakespeare, is very powerful so the relationship between music and words is therefore much denser and closer than in other cases. I must say that at first I did not find this approach to the opera easy because what I usually love the most in Verdi is his human aspect, the nobleness, courage and love. Here, however, there is very little nobleness and just as little true love. It is a violent, ferocious world and I had to force myself a little to enter it. Luckily the music came to my rescue.
We know that Verdi wanted the singer Felice Varesi at all costs for the premiere because he thought he was the only one who was able to create the particular 'effect' required in that character. What kind of vocal qualities do you think the role of Macbeth should have? And what about Lady Macbeth?
First of all I would like to say that in a way, this opera should be called Lady Macbeth. While the role of Macbeth is undoubtedly one of the main ones, as is so often the case in life, it is the woman behind the man who is more important. And this element comes out vigorously in Macbeth. So what you need is a good actor for Macbeth but his voice is relatively 'normal', while the soprano role is almost impossible. For the Lady he was looking for a singer who was not attractive and did not even have a beautiful voice. But that was obviously impossible because you cannot choose someone with poor vocal qualities. So you have to start working with a beautiful voice that is flexible enough to bring to the fore the innate evil in this character. Of all the roles I know, this one is the closest to impossible. In general, in the relationship between a man and a woman, between husband and wife, I think the role of the woman is far more important. I often say that my main task is not conducting: first of all, I'm a porter; then I'm the cook; and in addition, I conduct. The relationship between the two protagonists in Macbeth is really clear: his wife has Macbeth in her complete power and control.
After Macbeth and Lady Macbeth, the third protagonist is the witches' chorus.
These figures are also almost impossible to interpret. If one stages Shakespeare's play without Verdi's music one can introduce 'real' witches who may have shrill, horrible voices. But when singing, it is extremely complex to make the musical characteristics of these figures emerge. Vocally speaking, excessive exaggeration produces a comic effect. So it is really difficult to find the right way and a lot of work has to be done both technically and mechanically speaking. One almost always has to sing without a heart, calculating carefully the effects that the lightness and 'phantom-like' presence of these witches create. It is almost like working against nature, without leaving any space for emotions. It is the complete opposite to the beautiful Italian voices that put their heart into every note.
After the première in Florence, the composer revised the score for Paris, modifying some parts but also changing others completely. Today it is the second version that is performed most frequently. Why?
I don't think one should talk of a second version. In fact, the one created for Paris is a score that compared to the first contains only minor changes. In this case Verdi's revision is different from that of his other operas, for example Simon Boccanegra, where the second version is undoubtedly better. With Macbeth, Verdi kept most of the first version in the second, but he also made small changes, and changed the orchestration in several places, but the overall structure of the opera is definitely the same. However, as always, the slightest change is highly motivated and is a clear improvement and that is why it is difficult to resist the second version when making a choice. But we won't perform the ballet that was devised specifically for Paris. Personally, I do not like adding ballet scenes to Verdi's works.
Macbeth is a 'fantasy' genre opera, chosen by Verdi together with the entrepreneur Alessandro Lanari who had already introduced works such as Meyerbeer's Robert le Diable or Weber's Der Freischütz.
That's right, you just have to think of Lady Macbeth's famous sleepwalking scene in the last act. However, the whole opera evolves on a subtle line between reality and a dreamlike world, between what is concrete and imagined. Regarding the direction, I think our production focuses on this kind of interpretation. The presence of the children is to be understood accordingly, and for Verdi this had a very important function. Perhaps giving Lady Macbeth a little humanity helps, because at a certain point she seems to become incomprehensibly evil, wavering constantly between this atavistic evil and madness.
This is a macabre tale of power, greed and human weakness. What does it still have to say to the audience today?
It is not just speaking to contemporary viewers but to the audience through the ages. The protagonists are two figures who want to dominate everyone else. Figures like these, who are blinded by their desire for power, have always posed a great danger for humanity no matter where you go. And although the subject is dark and violent, this opera helps us understand just to what extent this drug – in the form of yearning for power – is so terribly deeply rooted in man. As always, the music manages to convey a specific message that goes beyond the mere words. The latter remain in one's head while the music goes to the very heart and soul of every human being.
Jean-François Leclercq
Myung-Whun Chung is Principal Guest Conductor at the Staatskapelle Dresden and Honorary Conductor Laureate of the Tokyo Philharmonic Orchestra.

Born in Seoul, he began his musical career as a pianist, winning second prize at the Tchaikovsky Piano Competition in Moscow in 1974. After his musical studies at the Mannes School and Juilliard School in New York, he was appointed Carlo Maria Giulini's assistant in 1979 at the Los Angeles Philharmonic and became Associate Conductor two years later.

Chung has been Music Director of the Saarbrücken Radio Symphony Orchestra, Principal Guest Conductor of the Teatro Comunale di Firenze, Music Director of the Opéra de Paris-Bastille and Music Director of the Orchestre Philharmonique de Radio France. His love for Italy has been the basis of his extensive work in that country for many years, including, his former position as Principal Conductor of the Orchestra dell'Accademia Nazionale di Santa Cecilia in Rome. He also appears regularly at the Teatro La Fenice, recently conducting Madama Butterfly, Simon Boccanegra, Otello and Tristan und Isolde.
© Michele Crosera
© Michele Crosera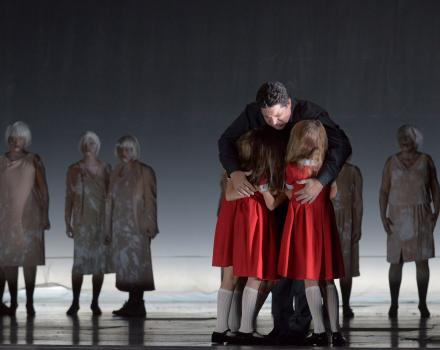 © Michele Crosera
© Michele Crosera
© Michele Crosera
© Michele Crosera
© Michele Crosera