Javier del Real | Teatro Real
Javier del Real | Teatro Real
A famous singer lives only for art and love. But when she finds herself caught in a web of politics, corruption, lies and lust, she is forced to make a terrible choice.
To this day, Tosca is one of the most popular and ageless operas. With its cinematographic pace, abundant leitmotifs and massive orchestrations, Puccini renewed and transcended Italian melodrama and the verismo genre. Sondra Radvanovsky, Joseph Calleja and Carlos Álvarez lead this operatic thriller in the midst of a revolution, under the direction of Paco Azorín and the baton of Nicola Luisotti.
Cast
Orquesta Sinfónica de Madrid

...
Giuseppe Giacosa and Luigi Illica after Victorien Sardou's play 'La Tosca'

...
The story
Act I
Cesare Angelotti, a former consul of the decayed Republic of Rome, has escaped from prison and found refuge in the Church of Sant'Andrea della Valle. His sister, the Marchioness Attavanti, has left him some clothes there in the family chapel. Elsewhere in the church, the painter Mario Cavaradossi is working on a portrait of Mary Magdalene. He compares the angelical features of the painting to the dark, sensual ones of his lover, the singer Floria Tosca. Angelotti approaches Cavaradossi for help, as they are friends who both fought for the Republic. An imperious voice resonates in the church: Tosca is jealous, believing that she heard the voice of another woman. She is also highly suspicious of the painting of Mary Magdalene, in which she recognises the likeness of the Marchioness. Cavaradossi manages to appease her and arranges for them to meet at their usual place later that evening.
Meanwhile, police have discovered Angelotti's escape. Cavaradossi offers him a hiding place in his country cottage, and both leave at once. News arrives that Napoleon has been defeated at the Battle of Marengo, and people gather in the church to celebrate. They are interrupted by the Papal Chief of Police, Scarpia. He finds a fan belonging to the Marchioness and learns that Cavaradossi has disappeared, leading him to think that the painter had a role in Angelotti's prison break.
Tosca returns to the church only to find that Cavaradossi has left. Furious, she is easy prey for Scarpia, who stirs up her jealousy by showing her the Marchioness's fan. She storms out and heads for her lover's cottage, unaware that Spoletta, Scarpia's henchman, is following her. Scarpia has devised a cruel but cunning plan: he wants to have Cavaradossi executed and make Tosca his own lover. He exclaims: 'Tosca, you make me forget even God!' while the Te Deum, a Christian hymn of praise, resonates throughout the church.
Act II
While enjoying supper in his office and listening to Tosca singing for the Queen elsewhere in the Palazzo Farnese, Scarpia savours in advance the success of his plan. Spoletta brings in Cavaradossi, who denies knowing Angelotti. Tosca rushes in and Cavaradossi begs her not to tell Scarpia what she knows about the escaped prisoner. The painter is taken to a neighbouring room where he is tortured. Tosca, unable to withstand the cries of her lover, gives in and reveals Angelotti's hiding place.
A messenger enters with news that Napoleon has in fact won the Battle of Marengo. Cavaradossi is dragged in and sings a hymn to freedom before he is taken to prison. Spoletta informs Scarpia that Angelotti has committed suicide. The Chief of Police explains that the price for Cavaradossi's release from political imprisonment is Tosca herself. She reluctantly accepts. Scarpia gives the order that Cavaradossi's execution be simulated, and prepares a diplomatic passport for Tosca and Cavaradossi so that they can flee Rome together. Scarpia tries to claim his prize and kiss Tosca, when she stabs him with a knife. Looking at the Scarpia's body, Tosca disdainfully exclaims: 'Before him all Rome trembled!'
Act III
Dawn is breaking over the roof of Castel Sant'Angelo. As Cavaradossi waits for his execution, his last thoughts are for Tosca. She comes in, informing him that the execution will only be simulated, and that they will escape Rome together. The firing squad aligns, and Tosca tells Cavaradossi to act as if he has really been shot. After the shooting, she runs towards him, only to find that he is really dead, and that Scarpia has betrayed her. Scarpia's body has been found and Spoletta arrives to arrest Tosca. Instead of surrendering, she decides to jump into the void, crying: 'O Scarpia, we meet before God!'
Insights
The Revolution as a character
Stage director Paco Azorín on his Tosca
For this occasion, I wanted to add a new symbolic character: the Revolution, represented by a young naked woman, inspired by 'Liberty Leading the People' by Eugène Delacroix (1798-1863). This character is clearly associated with Angelotti and the political struggle against Scarpia's repression; a struggle that Cavaradossi will later embody through his unconditional support for Angelotti, and finally Tosca, by assassinating the tyrant, thus becoming a revolutionary, malgré elle même.
This female character will have a symbolic appearance in each of the three acts, aspiring as her ultimate goal to the conquest of freedom. At the beginning of the opera, it is the Revolution that appears led by the people. In the second act, as if it were a thought, we see the Revolution inducing Tosca to the murder of Scarpia. And already in the third act we associate the song of the pastorello to a revolutionary slogan proclaiming to the world that the tyrant is dead. Even if our protagonist couple dies at the end of the opera, they will have contributed, through the Revolution, to widening the limits of freedom.
    
As the philosopher Ralph Waldo Emerson (1803-1882) put it: 'Every revolution was first a thought in one man's mind.'
La Liberté guidant le peuple, 1830.
Eugène Delacroix (1798-1863).
Oil on canvas, 260x325 cm.
Musée du Louvre, Paris.
© Javier del Real | Teatro Real
© Javier del Real | Teatro Real
© Javier del Real | Teatro Real
© Javier del Real | Teatro Real
© Javier del Real | Teatro Real
© Javier del Real | Teatro Real
© Javier del Real | Teatro Real
© Javier del Real | Teatro Real
© Javier del Real | Teatro Real
© Javier del Real | Teatro Real
© Javier del Real | Teatro Real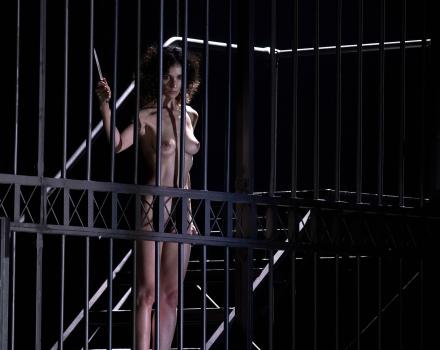 © Javier del Real | Teatro Real
© Javier del Real | Teatro Real
© Javier del Real | Teatro Real
© Javier del Real | Teatro Real
© Javier del Real | Teatro Real
© Javier del Real | Teatro Real
© Javier del Real | Teatro Real
© Javier del Real | Teatro Real
© Javier del Real | Teatro Real