Marco Borggreve
Marco Borggreve
Nederlandse Reisopera
Orfeo
Monteverdi
When Eurydice dies on their wedding day, Orpheus, unable to accept her death, descends into the underworld to retrieve her. But as they ascend to the realm of the living, will he be able to refrain from looking back at her, lest he lose her forever?
Director Monique Wagemakers, together with choreographer Nanine Linning and artist Lonneke Gordijn (Studio DRIFT), developed the concept for this opera as a contemporary Gesamtkunstwerk that fully integrates stage direction, choreography and design. The costumes of fashion designer Marlou Breuls accentuate and enhance the effect of homogeneity.
Cast
La Musica / Messagiera / Proserpina

Euridice / Speranza / Eco

Plutone / Pastore / Spirito

Apollo / Pastore / Spirito

Dance Company Nanine Linning - Demi-Carlin Aarts, Mirko de Campi, Luca Cappai, Kimmie Cumming, Milan van Ettekoven, Anna Suleyman Harms, Boglarka Heim, Sergio Indiveri, Hang-Ceng Lee, Kyle Patrick

...
Monique Wagemakers, Lonneke Gordijn (Studio DRIFT), Nanine Linning

Lonneke Gordijn (Studio DRIFT)

...
The story
Prologue
After an introductory toccata, the personification of Music appears. She sings about the powers at her disposal and announces the story of the Thracian singer and demigod Orpheus, who with his voice was able to move man and nature and even penetrated into the underworld.
Act I
In the company of shepherds and nymphs, Orpheus and Eurydice celebrate their marriage.
 
Act II
While Eurydice sets off with her friends to make wreaths of flowers, Orpheus sings of his happiness in the company of the shepherds. The happy gathering is disturbed by a messenger who brings the news that Eurydice has died after she was bitten by a snake. Orpheus bemoans his fate and decides to retrieve her from the underworld.
Act III
Orpheus is brought by Hope to the river Styx. There she leaves him behind, for here the motto is: 'Abandon all hope, thou who enterest here'. In spite of his poignant singing, Charon, the ferryman of the kingdom of the dead, refuses to take Orpheus to the underworld because he is still alive. When Charon falls asleep, Orpheus rows to the other side of the Styx himself.
Act IV
Moved by Orpheus's song, Proserpina, goddess of the underworld, begs her husband Pluto to let Eurydice go. He agrees under one condition: until they return to the land of the living, Orpheus may not look at Eurydice. In good spirits, Orpheus begins the retreat, but when he does look back to see if Eurydice is following him, she disappears from sight. The spirits of the underworld complain to Orpheus, who could not control his own desire.
Act V
Orpheus wanders alone and complains of his loss. The echo repeats his complaint. His father Apollo comes to his aid and takes him to heaven. He promises his son that he will be able to see Eurydice among the stars.
Insights
The Orpheus in all of us
Turning back time
Throughout the centuries, the myth of Orpheus has inspired many artists, writers, musicians, painters, poets and composers, all of whom have shaped their own interpretation about this demigod. Orpheus is a musician, singer and poet. He transforms his depressions, fears and sorrow into music, into art. He is the personification of the power of music and the archetype of a passionate artist, who reveals the mystery of life and death. The story of Orpheus is about the fleetingness of human nature and the infinity of art.
Orpheus is a demigod who has difficulty dealing with human emotions. He is an expert complainer and is always living in the past; even on his wedding day, he reminisces of the time when he was unhappy. Orpheus cannot let go of the past and this keeps him from experiencing any happiness that may be there. He needs his past in order to write poetry, and make music in order to create.
Don't look back
Director Monique Wagemakers explains, 'This story is about each and every one of us, we all have something of Orpheus in us. When something bad happens, we want to turn back the clock, "If I had only, … I should have …"'. When the moment comes for him to leave the underworld with Eurydice to start a new future, he has to let go of his beloved past but is unable to. So he does what he has always done: he looks back.
Orpheus stays inextricably bound with the past, with the things that once were. In the end, he is left behind with his own echo, but even that no longer offers consolation. Apollo intervenes, and at the end of the opera asks his son, 'Why do you keep dwelling in resentment and sorrow? Don't you know that earthly happiness never lasts forever?'
A contemporary Gesamtkunstwerk
Director Monique Wagemakers, together with choreographer Nanine Linning and artist Lonneke Gordijn (Studio DRIFT), developed the concept for this opera as a contemporary Gesamtkunstwerk that fully integrates stage direction, choreography and design. Fashion designer Marlou Breuls was brought in to create close-fitting, skin-coloured costumes made of gauze. Right from the start, Wagemakers' intention was to find a new way to make opera. This is why she deliberately sought collaborations with independent artists.
On working with Lonneke Gordijn, Monique Wagemakers says, 'Lonneke has a fascination for nature; with her installations, she operates at the edge between life and death, between day and night, between being frozen in rigidity and getting moving – exactly what Orpheus is about.' Choreographer Nanine Linning incorporates her strongly personal and physical dance language into this concept. The ten dancers of her Dance Company are part of the cast. Because singers and dancers in this production form a single group and are always on stage, Linning was also involved in the casting of the singers.
The installation: Ego
For this production, artist Lonneke Gordijn (Studio DRIFT) developed the overwhelming installation Ego, a handwoven mobile sculpture made of nylon thread measuring 9 x 4.5 x 4.5 metres that fills almost the entire stage. Ego represents the perspective of man and shows how hope, truth and emotions are a direct result of either the rigidity or the dynamism of our thoughts.
Jointly with the interactions of singers and dancers, the sculpture takes us into Orpheus' inner world. Orpheus is stuck in his own inflexible views about love and life. It is only when his world fully collapses – after he loses Eurydice – that he rises above his own self. He has to face the laws of nature, and this new goal in his life completely changes his perspective, suddenly making him a strong figure.
Ego is steered by motors, algorithms and specially developed software. During the performances, Ego is also 'conducted' manually so it can react to the tempo of the music. The motions of the sculpture depict Orpheus' emotions, fears and strength. Ego is therefore not only the stage decor but also a soloist in this production.
A homogeneous group on stage
Director Monique Wagemakers and choreographer Nanine Linning chose to present the ten singers and ten dancers as a homogeneous group, and together with the installation Ego as a single organism on the stage. Everyone in this opera is part of Orpheus' inner world. Ego is his universe.
The other characters as such are not always recognisable as separate roles. All the singers and dancers remain on stage during the entire performance. The work process reflects this, as they always rehearse in a single studio. In this way, the theatrical direction and the choreography organically flow into each other.
Linning deems that 'The dance language for this opera is eloquent without being anecdotic. As an artist and choreographer, this opera challenges me to create theatrical dance that integrates the poetic texts and fantastic atmospheric music. The bodies of the singers and dancers tell with and without words about Orpheus' quest in search of happiness.' The production's dancers are part of Linning's own Dance Company Nanine Linning, based in Germany.
A 400-year-old contemporary work
Conductor Hernán Schvartzman sees Orfeo as a timeless opera, 'It is wonderful to see how an opera that is 400 years old can still be a contemporary work in each time period. Our making of a contemporary version, with its daring artistic choices, fully fits with the intention of Claudio Monteverdi. Further elaborating on the work of his predecessors of the Camerata Fiorentina in 1607, he even created an entirely new art form: opera.'
'In general, composers of Monteverdi's time were not that accurate when notating instrumental scores. By contrast, Monteverdi goes into great detail in this opera, with a rich palette of colours and strong symbolic connotations: flutes for the shepherd, organ and harp symbolising Orpheus' harp, and trombones and regals for the underworld. I am very pleased with the collaboration with Baroque ensemble La Sfera Armoniosa; they are specialised in 17th-century music, and their musicians have played with the best ensembles around the world.'
© Marco Borggreve
© Marco Borggreve
© Marco Borggreve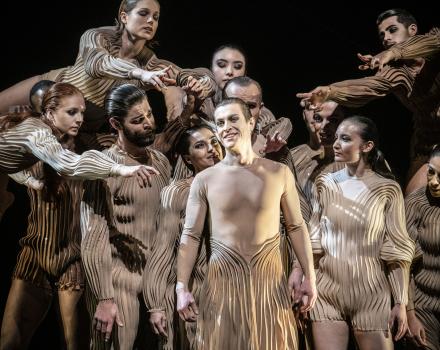 © Marco Borggreve
© Marco Borggreve
© Marco Borggreve
© Marco Borggreve
© Marco Borggreve
© Marco Borggreve
© Marco Borggreve
© Marco Borggreve
© Marco Borggreve
© Marco Borggreve