Heikki Tuuli / Finnish National Opera
Heikki Tuuli / Finnish National Opera
An evening with Finland's most famous opera star of whom The Guardian says 'Her full-bodied, radiant soprano is still as powerful, her dramatic commitment on stage as voracious as ever.'
The two parts of the evening showcase two opposite extremes of emotion. Firstly, Poulenc's powerful La voix humaine (The Human Voice) tells the touching story of an abandoned woman. The opera monologue of approximately 45 minutes is performed in melodramatic film noir style. After the interval the atmosphere changes dramatically, turning into a raucous show of musical classics and popular repertoire. Directed by Jussi Nikkilä and conducted by Dalia Stasevska, this event has been put together specifically to showcase the great artistry of Karita Mattila.
The story
Poulenc
La voix humaine    
'Elle' (she) is alone in her apartment, waiting for a phone call from her ex-lover. They have only recently broken off their relationship. Several mistaken calls are received, but finally the ex-lover rings through. Elle recounts to him the events of her past evening and day, but she clearly conceals the emotional truth, she feigns a calm and collected veneer as she asks him if he would like to pick up his things - they speak about their past happiness, and her acceptance of his other relationships.
Their conversation is riddled with interruptions and dropped connections. She attempts to find his whereabouts, but when she calls his home, she discovers he is not there. This confirms her suspicions that he has moved on with his other lover.
When he calls again and reaches her, she keeps up the pretence of being fine, until despair and desperation overcome her and she confesses that she attempted suicide the night before, only saved by her doctor.
The rest of the call continues with interruptions, and bit by bit, she pieces together the  growing realisation that her lover has moved on and left her behind to deal with her emotional loss. Her anguish and resignation build until, in a final gesture, she says goodbye and expresses her love for him one last time and asks her friend to quickly end the connection.
Interval
John Kander (arr. John Langley)
Mein Herr
Holländer (arr. Paul Campbell)
Ich bin von Kopf bis Fuss auf Liebe eingestellt (Falling in love again)
Secunda (arr. Pessi Levanto)
Sä kaunehin oot (Bei Mir Mistu Shein)
Trad. (arr. Rauno Lehtinen)
Kielletyt leikit (Romance d'amour from film Jeux Interdits)
Jorma Panula
Olen mikä olen (I am What I am)
Piazzolla (arr. Iikka Kotaja)
Libertango
Andrew Lloyd Webber (words: Don Black, Christopher Hampton)
With One Look from the musical Sunset Boulevard
Mackeben (arr. Peeter Saul)
Itke en lemmen tähden (Nur nicht aus Liebe weinen)
Bacharach (arr. Paul Campbell)
What the world needs now is love
Insights
The lyric beauty of Karita Mattila's voice and her innate sense of theatre have set her apart as one of the most sought-after operatic sopranos in the world today. Opening season 2021–2022, Mattila made a triumphant return to Royal Opera House, Covent Garden as Kostelnička in Claus Guth new production of Jenůfa conducted by Henrik Nánási; and will close it at the Salzburg Festival in a new role — La zia Principessa in Christoph Loy's new staging of Il trittico.
Karita Mattila has won numerous awards throughout a distinguished career and received the Order of the Lion of Finland, First Class Commander in 2020. Her other notable awards include Musical America's Musician of the Year and the Chevalier des Arts et des Lettres; and in the 2016 Royal Philharmonic Society Award for her "unforgettable incarnations of both Kostelnička and Emilia Marty". Ms Mattila trained at the Sibelius Academy in Helsinki with Liisa Linko-Malmio and subsequently with Vera Rózsa with whom she studied for almost 20 years.
Her experience is now highly sought after and recent invitations to give masterclasses include the Peabody Institute of The Johns Hopkins University, Lauluakatemia, Helsinki and The Birgit Nilsson Museum and she sat on the jury panel for the 2021 Toivo Kuula Competition.
© Heikki Tuuli / Finnish National Opera
© Heikki Tuuli / Finnish National Opera
© Heikki Tuuli / Finnish National Opera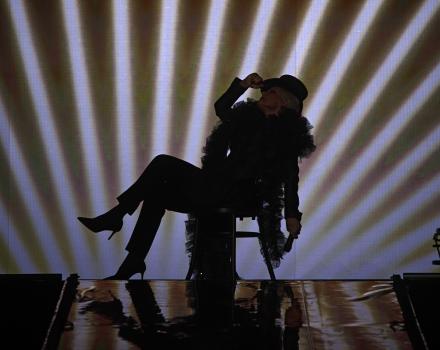 © Heikki Tuuli / Finnish National Opera
© Heikki Tuuli / Finnish National Opera
© Heikki Tuuli / Finnish National Opera
© Heikki Tuuli / Finnish National Opera