Julian Guidera
A passionate count enlists a local barber and jack-of-all-trades to help him woo and wed a quick-witted woman. But it will take all their cunning - as well as some disguises and bribes - to ensure love wins the day.
Rossini's joyously inventive music makes this a deftly-paced triumph of comic timing. But woe betide anyone taking too many liberties. Adelina Patti, the great 19th century diva, once sang the aria 'Una voce poco fa' to Rossini, adding numerous florid embellishments. The composer responded: 'Very nice, my dear, and who wrote the piece you have just performed?' Garsington Opera's production is directed by Christopher Luscombe, who sets the action in a 1929 Seville, and conducted by Douglas Boyd with The English Concert playing on period instruments. Simon Higlett's stunning set shows a Seville that is booming; first, in an exuberantly coloured street scene and then, as the exterior of the Bartolo residence rotates, we see the treasures inside - a riot of gold and marble, an ode to luxury and fashion. A feast for the eyes and ears, streamed on OperaVision to mark World Opera Day.
Story
Count Almaviva has seen Rosina, the ward of Dr Bartolo, in Madrid and fallen in love with her. He has followed her to Seville, where he pretends to be a poor student called Lindoro.
Act I 
The Count has hired some musicians to play beneath Rosina's balcony. No response. Enter Figaro, town barber and general factotum. The Count recognises him as a former servant and confides his intentions but is interrupted by a noise from Bartolo's house. He overhears Bartolo plotting to marry his ward later that day. Figaro persuades the Count to serenade Rosina but her reply is abruptly cut off. Encouraged by the offer of a handsome reward, Figaro devises a plan to get the Count into Bartolo's house by dressing him up as a soldier and pretending that he has been billeted there. 
Rosina has fallen in love with her unknown admirer and is determined that he shall be hers. But Bartolo has heard rumours of Count Almaviva's interest and is determined to thwart him. Rosina's music master, Don Basilio, advises him that slander is a useful weapon. Figaro suggests to Rosina that she might like to encourage Lindoro by writing him a letter and is delighted to discover that she is ahead of the game. 
A knock at the door heralds the arrival of a drunken soldier demanding lodgings. In the ensuing confusion, the disguised Almaviva manages to slip Rosina a message. Bartolo's fury at this intrusion causes such a row that the police are called. Almaviva avoids arrest by surreptitiously revealing his rank, leaving everyone utterly bewildered. 
Act II 
Bartolo tries to unravel the events of the morning. He is interrupted by the arrival of the Count, disguised this time as Don Alonso, a music teacher who claims he has come to give Rosina her singing lesson in place of Don Basilio, who is unwell. Rosina selects an aria from a new opera, The Pointless Precaution, to the disgust of Bartolo, who prefers more traditional fare. The Count manages to tell Rosina that he is her beloved Lindoro and they plan to elope at midnight. 
Figaro arrives to shave Bartolo and takes the opportunity to steal his keys. Don Basilio, in rude health, makes an unexpected appearance. He is persuaded, with some difficulty, that he has a fever and should go back to bed at once. Despite Figaro's efforts, Bartolo overhears the two lovers whispering to one another and throws Almaviva out of the house. The maid, Berta, is left wondering if love has driven everyone mad. 
Bartolo and Basilio conclude that the mysterious Don Alonso was none other than the Count. Basilio is sent to fetch a notary at once. Bartolo confronts Rosina with the letter she sent to Lindoro and persuades her that Lindoro is the agent of Count Almaviva, who only wants to marry her for her money. Believing that she has been betrayed, she agrees to marry Bartolo and tells him about the planned elopement. 
Figaro and Almaviva break into the house via the balcony. Rosina refuses to leave until she learns that Lindoro is actually Count Almaviva himself. Their happiness is such that Figaro has the greatest difficulty in persuading them to escape. When they try to climb off the balcony they discover that the ladder has gone. All seems lost, and Basilio arrives with a notary to marry Rosina to Bartolo. Fortunately, he agrees to accept a hefty bribe and instead witnesses her marriage to the Count. Bartolo returns too late and is obliged to admit defeat.
Insights
Douglas Boyd and Christopher Luscombe in conversation
Douglas Boyd: Garsington Opera has a strong tradition of performing Rossini's operas, including Armida, Maometto secondo, La donna del lago, Il turco in Italia – some of the more unusual ones! But it's 20 years since we did the most famous of them all, Il barbiere di Siviglia. It's the first time conducting and directing the work for both of us. But I know it extremely well and it's very close to my heart as an erstwhile oboe player. 'I recorded it with the Chamber Orchestra of Europe conducted by Claudio Abbado, with Plácido Domingo, Kathleen Battle, Ruggero Raimondi, so I've got these memories of something that was musically absolutely exceptional. Abbado made it feel as if we were performing it for the very first time – it was new and fresh and intoxicating. Right from the start there was a sparkle, a sense of being on the most thrilling rollercoaster ride. 
Christopher Luscombe: That's really exciting because I suppose the goal with any classic is to give it freshness and immediacy. One way to try and achieve that, I think, is simply to treat the characters as real people, and to create a believable environment for the piece. I'd love us to get to the heart of what's going on, to find out what they all want from each other, what makes them tick. Simon Higlett – the designer – and I decided that we wanted to set it in a very recognisable Seville and we both went there to do some exploring. It was fascinating to see houses with caged-in balconies and windows, on streets built deliberately close and narrow so that the sunlight can't get in. Don Basilio's slander aria is made for that city – it's built for intrigue.
DB: It helps all the conspiracy and subterfuge of the plot, doesn't it? And it's astonishing to me that Rossini was able to create such believable musical portraits given that he was only 23 when he composed this opera. There's a strong similarity for me between Rossini and Mozart in their energy and precocious ability. Plus of course they both made operas out of plays by Beaumarchais. I want to work with the players of The English Concert and with the singers to find a truthful interpretation, a rhythmic integrity for the music. It's exciting to give some licence to the singers for ornamentation but everything has to be grounded in what Rossini put on the page – it's essential not to lose dramatic momentum.
CL: Similarly, I'm keen to go back to Beaumarchais, as his sense of comedy clearly springs from psychological truth. He in turn took inspiration from Molière, whose plays he would have known well. The depiction of Dr Bartolo, who is tormented by his love for Rosina, has distinct parallels with Molière's School for Wives, where Arnolphe, an affluent, middle-aged man, becomes obsessed with his young ward, Agnès. It's a genuine torment for Bartolo – both Beaumarchais and Rossini make it clear that his feelings are not simply generated by avarice. He's a wealthy doctor, so the dowry is appealing, but it's not everything. That's reflected in our decision to update the action to 1929. That was an annus mirabilis for Seville, when the city hosted the World Fair. It was the place to be, and there was a lot of new building, including a row of fabulous Art Deco pavilions along the riverbank. It was a glamorous time, a monied world, but one in which everyone knew their place – a structured, ordered society of servants and masters, in which men went out and about and women mostly stayed at home. Rosina is trapped in a gilded cage but she's strong and resourceful, always one jump ahead of everyone else, even Figaro. And we're placing Figaro's barber shop in full view as that's his HQ, the nerve-centre of Seville. It doesn't just offer a shave and a haircut – it's the corner shop, coffee bar and dating agency all rolled into one.
DB: Figaro's like that character in the film Local Hero, the accountant who then turns up as the owner and receptionist at the hotel, then he's the barman at the pub, and next time you spot him he's driving the village's one and only taxi. There is just a little risk, that after a long supper interval, with plenty to eat and drink, when people come back into the auditorium and hear a sequence of recitative, they might just sink slightly lower and more sleepily into their seats! We wondered if there was another way to start the second half and to recreate the fizz of the overture. The overture to a rather less well-known work by Rossini, Sigismondo, is absolutely in the same mode, so we're borrowing it as our entr'acte. And, given that the composer pinched the Barbiere overture itself from an earlier work, this feels like quite a Rossinian decision! We've abridged it a little but I think it should kick-start Act Two and plunge us right back into that overheated, supercharged world.
Compiled by Henrietta Bredin 
Julian Guidera
Julian Guidera
Clive Barda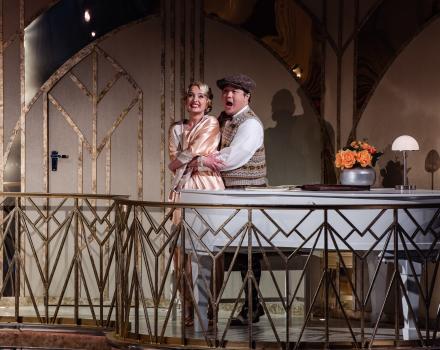 Julian Guidera
Julian Guidera
Clive Barda
Julian Guidera
Clive Barda
Julian Guidera
Julian Guidera
Julian Guidera
Julian Guidera